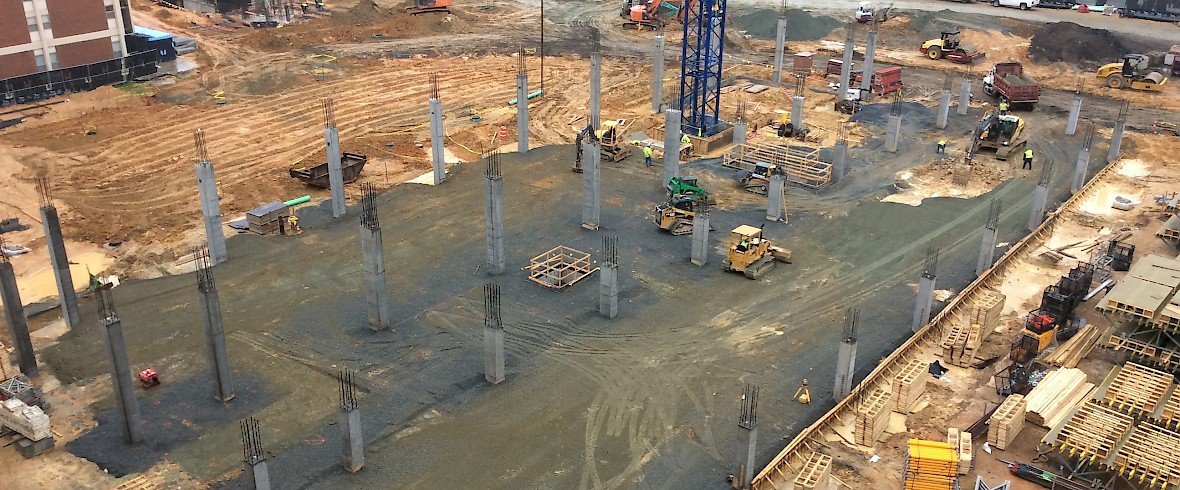 The formally known University Square on Franklin Street in Chapel Hill is now being replaced with a $123 million redevelopment. Carolina Square consists of three buildings which will include 246 luxury apartments, 159,000 square feet of office space and 42,000 square feet of retail. The community of Chapel Hill is extremely excited for this mixed use project.
Lithko was contracted for all three buildings. The largest of the three buildings has been the most difficult due to it being much cut up with many beams and a large amount of formwork needed for the 10 cast in place elevated slabs. For the formwork we chose to go with the PERI Formwork Table System. To save some time on the schedule we proposed a beam layout change to the design. Rather than rebuilding the beam layout on every floor, we proposed to keep the beam layout uniform all the way up the building. Our proposed change was accepted and as a result time was saved on the schedule.
Weather and logistics have provided some obstacles for our project team. We experienced a tremendous amount of rain during the months of November and December during the foundations. Despite this we made good production and kept a workable site. Due to the site location being in the middle of Chapel Hill and the college nearby, we had to work around high traffic of students and vehicles. We made sure to communicate our pour schedule with the town council because of the noise restrictions and permits needed for night work.
Lithko's overall scope included full frame, foundations, vertical concrete, slab on grade, and elevated slabs.
Details
Owner
Carolina Square Project LP LLC
Size (finished slab)
518,457 square feet