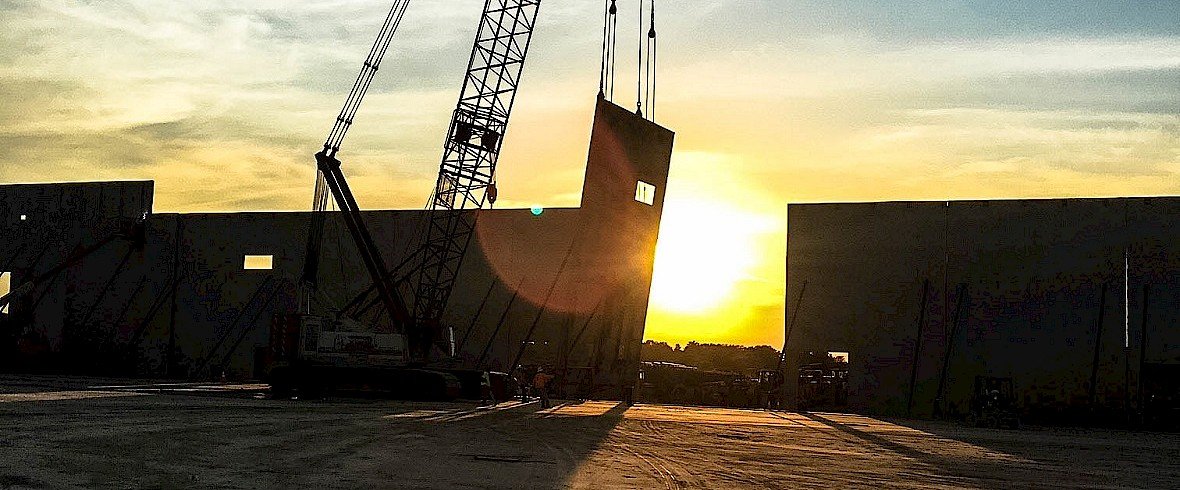 Erlanger Commerce Center Building 1
Distribution Centers
The Erlanger Commerce Center will consist of three buildings totaling 1,655,500 million square feet. Lithko is the concrete contractor on all three buildings. For Building 1, our scope included foundations, tilt-up panels and slabs utilizing the Ductilcrete Heidebed System.
During the preconstruction phase, our team presented the Heidebed option to Al Neyer and they agreed the benefits of this approach fit the project requirements. This Ductilcrete system is excellent for tilt-up construction as it affords speed benefits and protection for the subgrade early on, while providing a more visually appealing slab upon project completion.  The initial 'base slab' serves as a casting bed and workbench for multiple trades, with a 'topping slab' installed after the walls and roof are constructed, resulting in a high performance, extended joint slab.
The spring in the Midwest brought its usual rainy weather, but production did not slow down on this project. The Lithko team partnered with TMC Crane to set 170 tilt-up panels in just 5 days!
Details
Owner
Hillwood Investment Properties
Size (finished slab)
780,000 square feet
Other Projects in
Distribution Centers