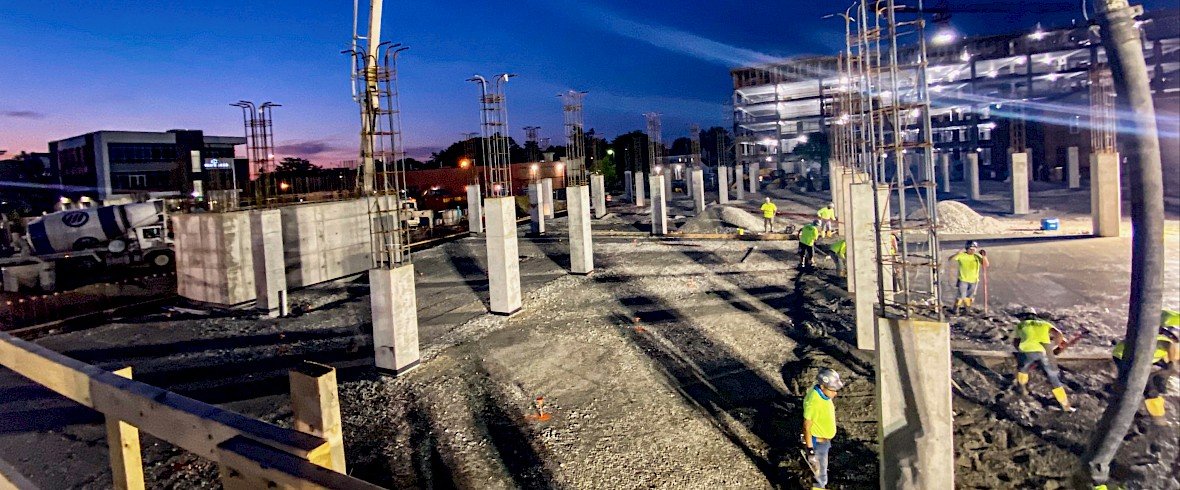 Nickel Plate Station
Mixed Use
Nickel Plate Station is part of the $157 million mixed use development in downtown Fishers, IN. Our partnership with CRG throughout the preconstruction process resulted in the Indianapolis BURG being awarded the concrete scope for the cast in place structure, including foundations, retaining and stem walls, core walls, columns, slabs on grade, and two levels of post-tension elevated deck totaling more than 155,000 square feet.
Initial weather delays and a tight project site put our project team's plan to the test, but through thoughtful navigation of our Project Execution Process the team was able to beat their initial project schedule by two weeks, allowing for following trades to get a jump on their work and keep the project moving forward.
A sloped soffit for one of the elevated deck levels and a 24' tall high-bay elevated deck section connecting adjacent structures provided opportunity for the project team to flex their muscles and showcase different approaches to solving problems alongside their customer. The swirl finish on the parking garage slabs will be a lasting testament to the workmanship employed on this project for years to come.
Details
Size (finished slab)
110,000 square feet, 3 structures on one site