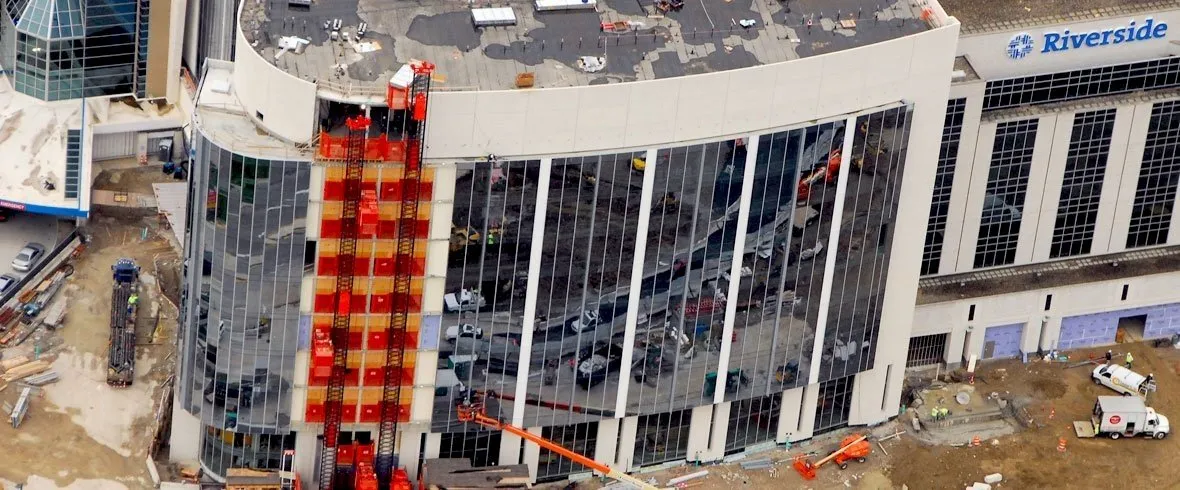 Riverside Methodist Hospital Neuroscience Institute
Healthcare
This nine-story, $321 million addition to Riverside Methodist Hospital has 224 rooms atop eight neurosurgery operating suites, plus diagnostic space and specialty clinics. The number of patients the hospital treated medically or surgically for stroke, sleep disorders, brain and spine tumors, and other nervous system disorders doubled over the past decade. The addition is projected to drive an additional 50 percent increase over five years. Already, Riverside treats more stroke and general neurology patients than any other hospital in Ohio.
Lithko used a hydraulic form system to put up 180-foot cores before building construction began.
Level three of the building was a transfer deck that contained 6 -foot-wide beams, which we did in two concrete pours (1,300 yards each). The total job had 2,000 tons of steel. This level had 565 tons of the steel.
After this project, our customer, Whiting-Turner Contracting Company, brought us in on additional projects. This project was a big stepping stone for some co-workers' development and careers. It included foundations, columns, core walls, radius walls, an elevator pit, slab-on-grade and slab-on-metal deck.
Details
Customer
The Whiting-Turner Contracting Company
Size (finished slab)
470,000 square feet
Other Projects in
Healthcare