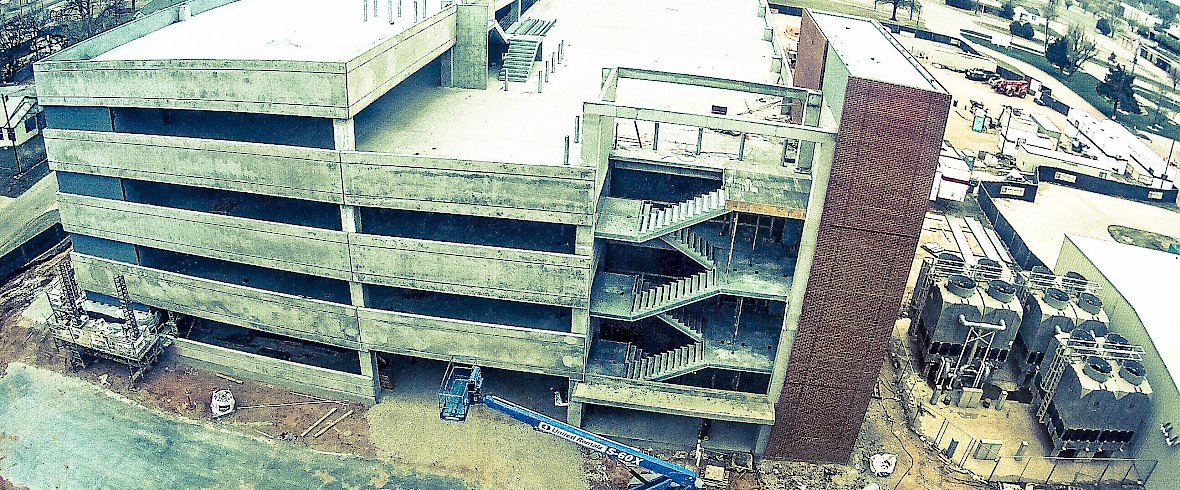 The Children's Center Bed Tower and Parking Garage
Healthcare
The $22 million expansion for The Children's Center will increase the number of patient beds and it will bring higher paying jobs to the town of Bethany. One of our key customers, Lippert Bros selected Lithko to partner on the bed tower and the parking garage.
On the bed tower, we completed foundations, storm shelter walls, slab on grade and 4 levels of slab on metal deck over an 8 month timeframe, with the last one ending in July of 2016. The design specified a lightweight concrete for the slab on metal decks, which is unique. Our team worked closely with Dolese to ensure the correct unit weight and moisture content of the aggregate was available prior to each concrete placement. If the moisture content is too low the lightweight mix is nearly impossible to place through a concrete pump because the free water in the mix gets forced into the pours of the aggregate under pressure from the concrete pump.
For the parking garage the jobsite footprint was only about 30 ft larger than that of the garage and only allowed access on 3 sides. Lithko performed the hoisting with forklifts to form and install all of the work. Our Daily Planning Process ensured that we were able to work safely with multiple forklifts moving and exchanging materials. Lithko placed 6,600 cy of foundations and structural frame in 16 weeks.
Using our Project Execution Process, Lippert Bros and Lithko partnered to develop a realistic and successful plan to accelerate the project schedule on the parking garage. This ensured other trades could begin their portion of the work in a timely manner.
The garage is expected to be occupied in May 2017.
Details
Owner
The Children's Center
Size (finished slab)
249,100 square feet
Other Projects in
Healthcare