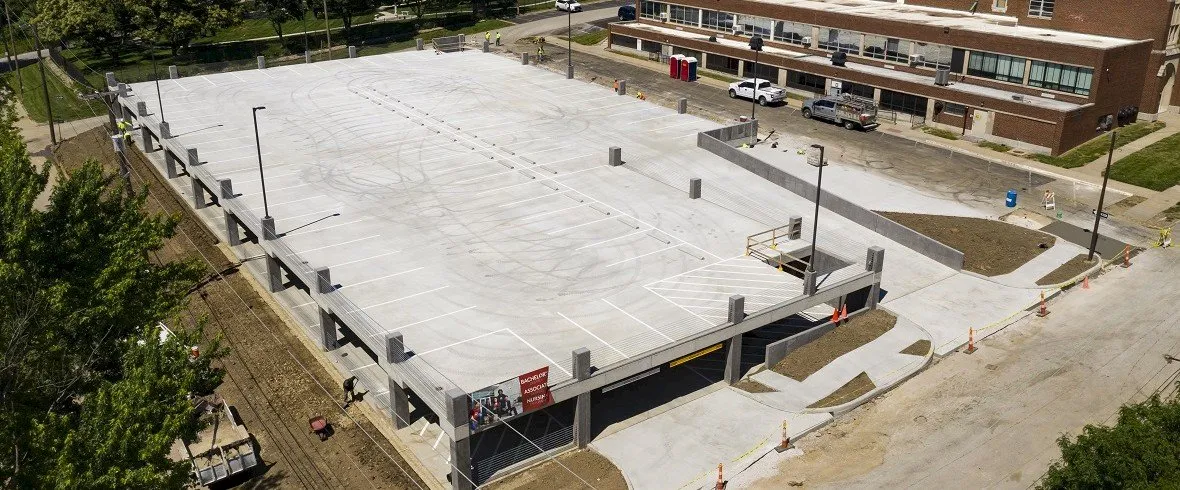 The Donnelly College Parking Garage
Universities
The Donnelly College Parking Garage is part of the third phase of the $19.5 million master plan, which is transforming the Donnelly campus and surrounding communities in Wyandotte County. Lithko is installing the foundations, slab on grade, and a single elevated deck for the cast in place concrete structure as well as the new academic building, once the garage is complete.
On the right side of the parking garage, sits the Bishop Ward High School, which is currently in session.  Adding to the logistical complexity, the project site is extremely tight. Just in time deliveries are a must and our work has had to be sequenced in a way to allow access due to the narrow site.
One of the main aspects of the project is the architectural appeal to the neighborhood. The parking garage will consist of an integral colored concrete, which will contribute to the aesthetic design. Due to this component, it is extremely important to have the right formwork and consistent finishing and placement.
The schedule presented its own set of challenges caused by unsuitable soil conditions and winter construction. The academic building construction cannot begin until this portion of the project is complete.   Unfortunately, the harsh winter delayed the start of the project, but we are working with our client to accelerate the schedule. Using our planning processes, our team came up with successful solutions. We sped up our formwork cycle for the foundation walls and condensed the durations for the slab on grade prep, which gained us 2 weeks on the project schedule.
Details
Customer
Excel Constructors
Size (finished slab)
52,000 square feet
Other Projects in
Universities