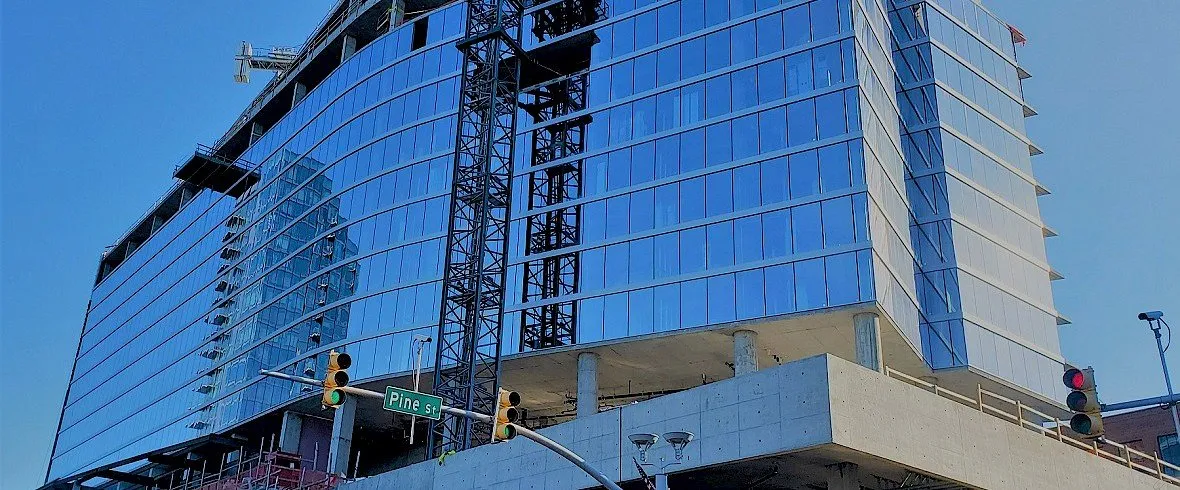 The new W Hotel is one of many hospitality structures under construction in response to a thriving tourism industry in Nashville. Our scope on the two-crane site includes two (2) levels of foundations, mat foundations, cast in place walls, cast in place columns, architectural finishes, topping slabs, core wall, and curbs. We are also installing two types of elevated decks conventional reinforced and post tension.
This is a design build project and our team has been doing an outstanding job keeping up with the substantial amount of revised drawings and change orders. It requires a great effort and attention to detail to manage document control, as it is crucial to ensure our field is working off the correct set of drawings and information.  This is achieved in part through our Project Execution Process and the implementation of a weekly Track and Re-Plan Meeting.
The 60' x 60' x 8' mat foundation placement that was over 1,000 CY of concrete, was considered a mass concrete pour thus the increase in heat posed a cause for concern. To avoid thermal cracking, our team poured at a much slower rate and added cold water. Placing at the correct temperature is crucial to the process, as the large elevator core is to sit on top, which could cause issues in the future if there were thermal cracking.
There are many different slab elevations requiring specific amounts of topping and installation, depending on the design load. For instance, the service drive will house many large trucks. We replaced 12 of 24 inches of slab with rigid installation and topping that significantly reduced the weight of the concrete so the slab could hold the weight of the trucks. Our Project Lead and the field team are executing at a high level with attention to safety and quality though their daily planning.
Our jobsite is very tight and there's not even room for an office trailer, so our team built their own office in the bottom of the parking garage for an area to work. Our team continues to do a great job solving the challenges on this project including closely managing material deliveries. Our work on the hotel is expected to wrap up in 2020, continuing to change the Nashville skyline.
Details
Customer
Yates Construction
Owner
Nashville Gulch Hotel LLC
Size (finished slab)
536,127 square feet
Other Projects in
Hospitality