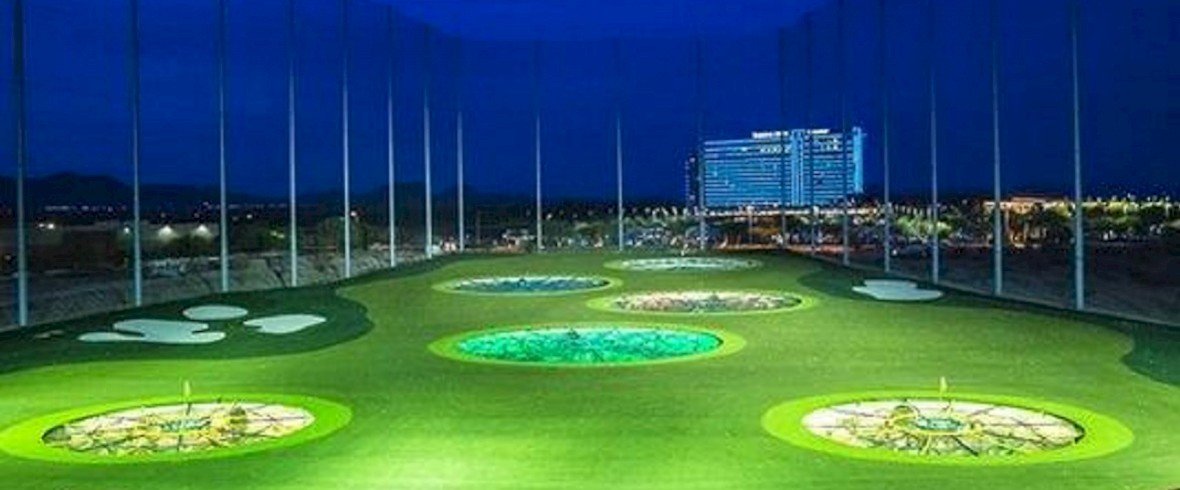 ARCO Murray selected Lithko to partner on the first Topgolf in Ohio. Topgolf has a unique concept. It is a driving range that also offers food, drinks and entertainment. Our scope included foundations, retaining walls, elevator pits, paving, sitework, and 8 targets.
The walls in the entry way called for a specific unique design, which has become a signature for Topgolf. To achieve the distinct exposed architectural look, a specific 5 inch formliner was required. Additionally, the design included radius walls to add to the challenge. To ensure the quality of the finish, our team performed three different mock ups on the panels to test various form releases and the optimum self-consolidating concrete mix design. This was critical to achieve the correct air content and pattern. All of the walls were in extreme close proximity to each other. Our team prebuilt each wall and flew each in with a forklift.
The large targets posed many challenges when it came to placing the concrete. These were not typical targets. The drain location was off set, rather than centered. Our team solved this by pulling string lines and setting grade pins prior to the placements. Because these targets are located outside and in Ohio, freezing temperatures could cause headache. To remedy, heat wires were installed prior to the placements and we had to use extreme caution not to puncture the wires during the pours. Due to the depth of the targets, our team was tasked to figure out how to finish a placement without stepping on the finished concrete. They built a one of a kind catwalk/platform that hung just enough above the concrete to perform the placements.
Our Daily Preparation Process had a huge positive impact on this project. It was paramount to have constant communication with our place finish team, especially during the target placements.  This was the fastest Topgolf built to date. Our team finished 30 days ahead of schedule.
Details
Size (finished slab)
115,000 square feet
Location
West Chester, OH
Other Projects in
Entertainment