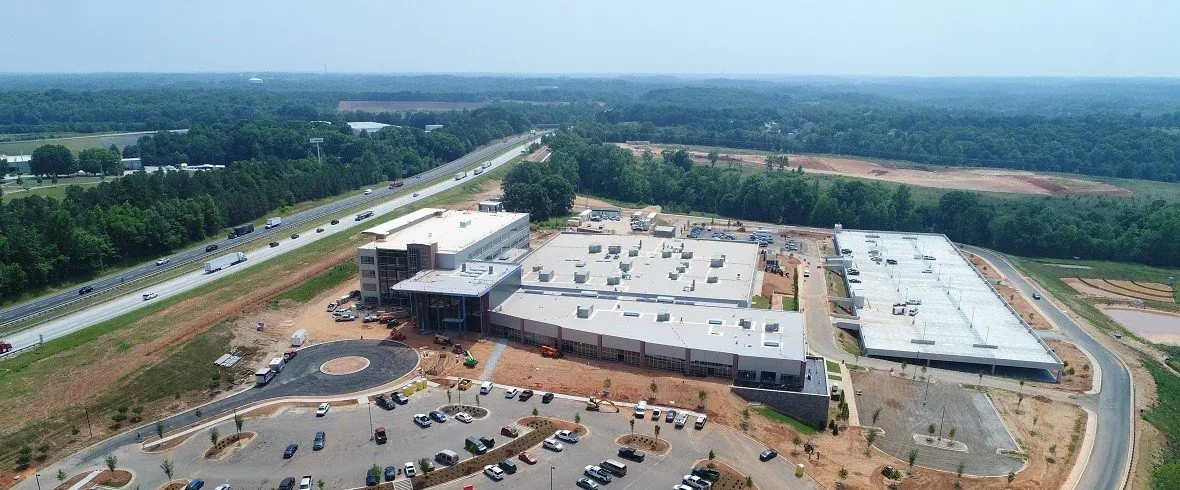 TTI Innovations Center
Manufacturing
TTI Innovations Center is a 500,500 square foot Product Testing Facility that will inspect power tools and hand tool products such as Milwaukee, Ryobi, Hart, etc. This facility is located in Anderson, South Carolina on Interstate 85.
Lithko's Greenville team worked with the General Contractor on the budgeting phase and successfully secured the project.  Our scope on the multiple structured facility included 500,500 square feet of finished slabs, 30,000 square feet of site paving, and 28,000 square feet of sidewalk. We installed isolated footings and foundations for the lab block, office tower, shared service building, and the parking garage. Additionally, we built the mat foundations for the parking garage and the 20-foot-tall, 12-inch-thick retaining wall for the corridor.
During our preconstruction planning meeting, our team worked with Meva Formwork systems on a formwork design that would provide enough sequencing to expedite our schedule and meet the finish expectations of our client. The system ultimately contained an Alkus pane face that allowed us to achieve the preferred wall finish pattern. Furthermore, we were able to increase our pour lengths and minimize the number of placements.
All our coworkers on this project played a huge role in keeping this project safe, on schedule, and within budget despite the significant weather delays and site access challenges to the project.
Details
Customer
BE&K Building Group
Size (finished slab)
500,500 square feet