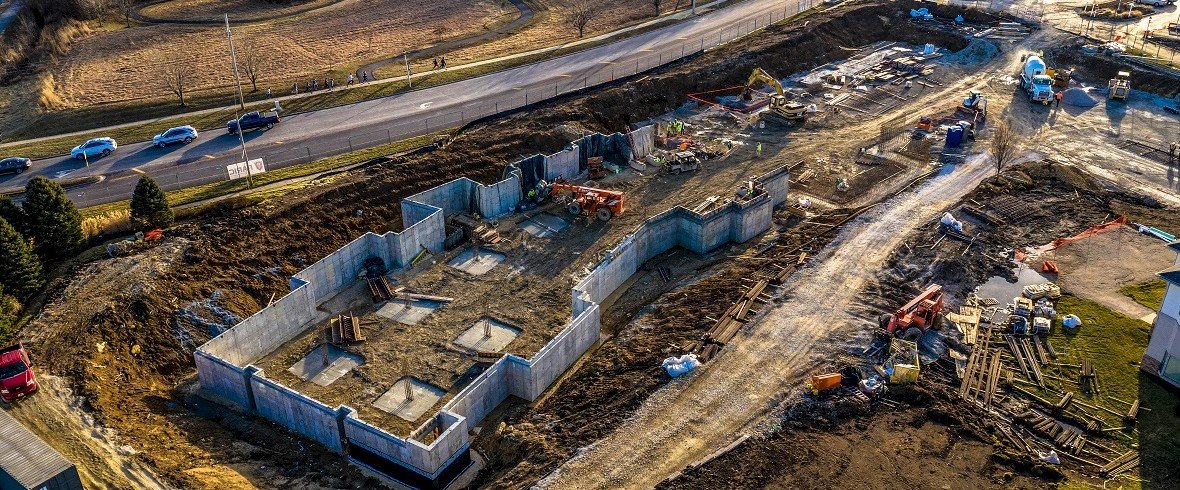 Village Shalom's $47 million expansion includes an assisted living community and a free-standing memory care facility. Lithko is installing the foundations, slab on deck, slab on grade, cast in place walls and columns, as well as a 13'' thick post tension podium deck. This is a BIM project and we are utilizing robotic 3D layout.
Construction on both structures is going on simultaneously around live buildings on the Village Shalom campus. Detailed daily coordination with the general contractor and other trades is a must to ensure scheduled deliveries can get through without disrupting or blocking access to current residents and pedestrians.
The profile of the buildings is not a typical square box, mimicking the existing structures. The design includes many turns, corners, and different sized angles, making layout extremely difficult. Due to these angles, the wall forms are also not continuous and are very cut up.
Kansas City had above normal precipitation over this winter including average temperatures around 30.2 degrees, which caused some of our work to delay. To accommodate the project schedule, our team used our Project Execution Process to successfully re-plan our phases of work. We were able to utilize manpower coming off another job to load up and work on multiple areas of the project at one time.
To continue to ensure the success of this project, our team is doing weekly coordination meetings with the general contactor to make sure everyone is aware of our upcoming plan and how it will affect other trades on the site.
Details
Customer
Paric Corporation
Size (finished slab)
113,469 square feet
Location
Overland Park, KS